February 13, 2014

Greetings to All Girl Scouts Members and Friends,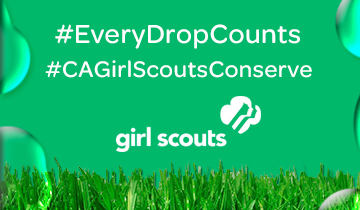 Anywhere but Girl Scouts, these three topics might seem random – what do cookies, strategic planning, and water conservation have in common? At Girl Scouts, they are all part of how we make sure that today's 5-year old Daisies have the same opportunities as 15-year-old Alyssa from our Northern-most Redwoods area, who recently had this to say to a reporter for the Eureka Times-Standard:
"I've been in Girl Scouts since kindergarten, and have stayed with the same troop. I stay in scouting because I love it. It's broadened my horizons in life and has taught me many things along the lines of entrepreneurship, socializing, worldly concerns, and has given me many different skills that I apply to my everyday life. I thoroughly enjoy the community service aspect of scouting, and strongly believe that it should always stay a nonprofit organization. It teaches girls to be independent, outgoing, mindful of other's struggles around the world, and encourages community service and selflessness, which is something the world needs more of." - Alyssa, age 15
Cookies on Sale February 9-March 16!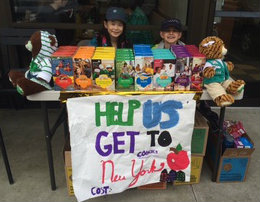 This year "Go Day" was also the first day of our $5 price (our first price increase in 5 years). I visited 5 cookie booths on Sunday and am happy to report that cookies were selling well. We already are replenishing cupboards and, so far, are on track for our best sale ever.
 
This year's $5 sale has required an extra dose of courage, confidence, and character.  Thank you to everyone for making the case for girls. For example, I love this infographic that Santa Clara County volunteer Janeen Vitalie-Shember, SU638, created to help girls and adults explain why cookies cost $1 more in Northern California: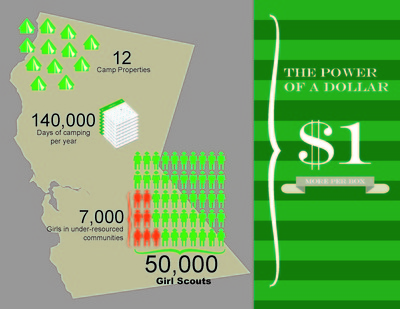 This is Janeen's great translation of my explanation – that when Northern California customers pays the extra dollar, they are investing in:
Camps:  12 camps that are getting girls outside – they hosted 140,000 camper days during 2013
Inclusion: Over 7,000 girls in under-resourced communities
Technology: Tools and online training that helps us support 30,000 volunteers who make Girl Scouts possible for over 50,000 girls in Northern California and who, in turn, contribute hundreds of thousands of hours of community service to Northern California communities each year.
GSNorCal's boundaries run from Santa Clara County to the Oregon border and east to Chico. Thank you to all of the girls, troops, families, and customers participating in this year's cookie program. It has been fun and inspiring to see your photos on Facebook – loading up trucks and station wagons, selling cookies in the rain with creative plastic bag solutions, and counting cases in living rooms.
 
We are thankful for the rain, but unfortunately, forecasts of bad weather slowed cookie deliveries in the farthest north of our council – to the Mt. Shasta area and to Eureka and north of Eureka. I am happy to report that cookies arrived on Monday. We apologize for the weather-related delay for these troops and are extending the sale for the 45 participating troops in these areas to ensure that everyone has the same number of selling days.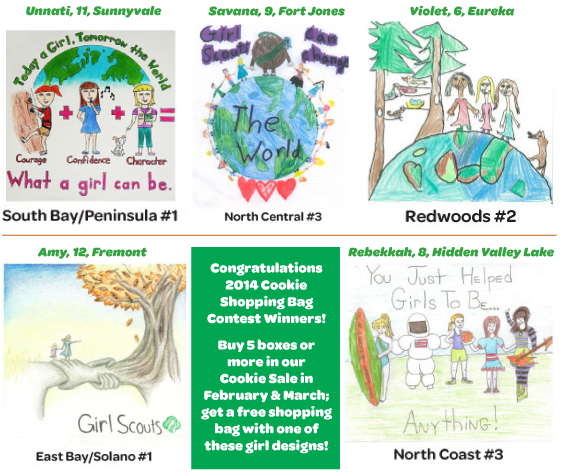 Looking ahead – The reusable bags for customers who purchase at least 5 boxes will be on their way to Service Units very soon! They are at the Port of Oakland awaiting customs clearance.
Finally – amidst the business of cookies, it's always good to remember that it is first and foremost an amazing program for girls.  I love this volunteer's post on our GSNorCal Facebook page on "Go Day" February 9:
"Today I was happy to be a part of a Daisy troop's very first cookie sale. During the hour I observed 3 young ladies learn how to make change, greet customers, refill their stock on the table, take turns, smile, and say thank you. This is what Girl Scouts are all about. Watching them grow and become strong and confident young ladies. Have a great cookie season and remember the reason.

"
Girl Scouts in the News.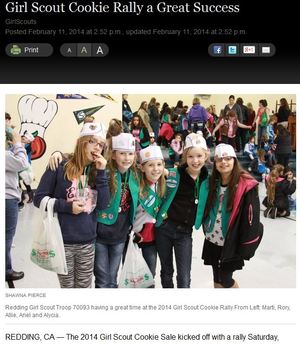 This year's cookie sale has been in the news – a lot. 
 
National Cookie Weekend started on Friday, February 7, with Girl Scouts and our national CEO ringing the opening bell at NASDAQ. Even my mom saw that on the national news!
 
GSNorCal's friends in the media have been "tweeting" their support for Girl Scout cookies, and we had some nice positive press over the weekend. The Eureka Times-Standard ran a very thorough look at why there's "More to Girl Scout Cookies Than What's in the Box," the Redding Record-Searchlight called a "Girl Scout Cookie Rally a Great Success," and The Willits News reported "Girl Scout Cookie Sale Kicks Off Sunday." KTVU Ch. 2 Oakland joined us for our cookie distribution in San Francisco, and we've also had stories on CBS 5 and ABC 7 - that's an estimated $8,600 in free publicity value for Girl Scouts on those two stations alone!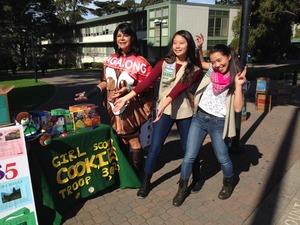 For our members in the San Francisco Bay Area, local CBS 5 weather reporter and Girl Scout alumna Roberta Gonzalez broadcast from a Girl Scout cookie booth at San Francisco State University today - wearing a Tagalongs costume!
 
Internet banner ads throughout the council started running on Monday as did Radio Disney ads in all markets where Radio Disney broadcasts. We know people are paying attention, since our website crashed on Monday afternoon, because of traffic to iLoveCookies.org – we are adding bandwidth. This is a good reminder to troops – people are using the booth finder, so please add your booth sales to the cookie finder and if something comes up and you need to cancel, please remove your booth, so we don't disappoint customers in search of cookies.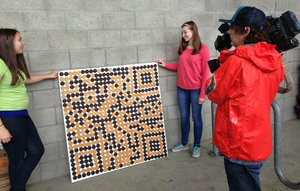 We have had quite a bit of media attention about our price increase, with people from all over the country weighing in on how much a box of Girl Scout cookies is worth to them.  The fact is – Northern California's price is a local decision based on our costs and choices (choices like keeping 12 camps open and offering more online training). While it is fun to know what someone in Miami or North Dakota might think about cookie prices, we can't base our decisions on that!
 
There has also been some publicity about threatened boycotts of Girl Scout cookies, organized by a Texas group, Pro-Life Waco. Thus far, we have had NO reports of protestors at Girl Scout cookie booths in GSNorCal. It is unfortunate that adults are using the cookie program to bring publicity to their causes and spread false information about Girl Scouts. The bottom line: Girl Scouts does not take a position on birth control, abortion, or human sexuality education. Contrary to what Pro-Life Waco and other like-minded groups assert, cookie sales do not fund Planned Parenthood. The cookie program does provide essential funding that helps girls and volunteers create leadership opportunities for 50,000 girls and contribute hundreds of thousands of community service hours in our communities. 
 
I want to thank all of our volunteers and supporters who are doing a GREAT job promoting the cookie program and responding to misinformation that gets spread via social media. There are so many media outlets and so many sources of information and misinformation, it takes a village to tell our story. 




 
If you have any questions or concerns about this year's cookie program, please don't hesitate to call or email me: 510.562.8470 ext. 1106, mpark@girlscoutsnorcal.org.
 
Strategic Plan: Looking ahead to 2015-2017. 
 
Strategic choices matter. We are in year three of our current 2012-2014 plan, which establishes the following priorities: mission delivery, volunteerism, diversity and inclusion, alumnae engagement, and financial health. It is a good practice for our members to evaluate our priorities at least every three years and make sure we are using our resources wisely – to meet the needs of girls and volunteers today and invest for the future.
 
In looking towards 2015-2017, the GSNorCal Board has reviewed girl and volunteer surveys, research, and data, heard from Regional Delegates and developed key insights about our challenges and opportunities. From all this information, they developed for member input: "Key Insights" and "Strategic Priorities." At this link, you will find a Power Point presentation with notes that can be used for Service Unit or other community discussions – or for your own review and comments. Our Board welcomes your input.
 
Here are three ways for members to provide input to the Board and Regional Delegates:
Attend a Service Unit meeting with a Regional Delegate (we've asked GSNorCal's Regional Delegates to lead discussions about the draft plan at Service Unit meetings between now and April 26). 

Send an email with questions/concerns to Strategy@girlscoutsnorcal.org

Attend the Annual Meeting, April 26, 2014, at Camp Bothin. Registration will open in March. 
Water Conservation: #CAGirlScoutsConserve & #EveryDropCounts. 



What does water conservation have to do with cookies and strategic planning?  Everything – it's all about having the resources to support volunteers and girls to create leadership opportunities girls want and experiences that change lives. Our Governor has declared a drought state of emergency, and this is an opportunity for girls to lead the way with their families, schools, and communities.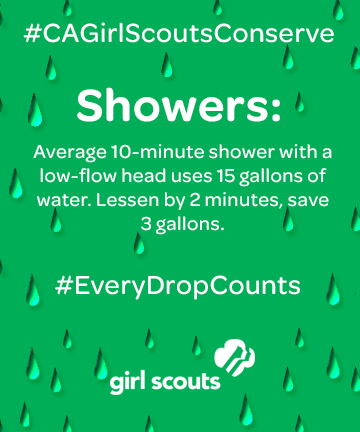 The 8 California-based Girl Scout councils have joined forces, 200,000
girls strong, to roll out a simple program with 4 easy actions that girls can take (and encourage others to take) to save water.
 
I know most troop are focused on cookies right now – but #CAGirlScoutsConserve is ready when you are!
 
Thank you again to every #cookieboss out there!
Yours in Girl Scouting,