October 1, 2015
Dear Members and Friends of Girl Scouts,

Welcome to the 2015-2016 membership year that starts today!  In this update, I am sharing:
---
News about Lake County: Girl Scout Product Sales Reward Cards for girl members in Lake County!

About 180 girls participate in Girl Scouts in Lake County. Some girls lost their homes in the Valley Fire, and many live in communities that are very challenged. Lake County has one of the highest poverty rates in California, and many of the girls depend on product sales to fund their Girl Scout activities. Lake County volunteers have shared with us that because of the disruption in their communities, most girls will not be able to participate in the fall sale program this year. We want to make sure Lake County Girl Scouts can look forward to fun in Girl Scouts.

Girl members in Lake County will be provided a product sale reward card that they can use to support their Girl Scout activities.  Funding for this gift comes from our Girl Scouts of Northern California Opportunity Fund, supported by many generous donors. You can help out too and contribute to the Opportunity Fund.  Thank you for helping us help girls. Your gift to the Opportunity Fund could:
Assist a family with purchasing their daughter's uniform

Grant a girl her first opportunity to attend camp

Support a girls' participation in a Girl Scout event; or

Help an older girl to lead her humanitarian project
Here is a picture of some of our great Lake County Girl Scouts during last year's cookie sale! We are proud of their courage, confidence and character during this challenging time. Some of the Lake County troops are just getting started with their plans to help their communities recover, and we'll keep you posted as we learn more ways to support their efforts.
---
What we've heard from girls, troop leaders and parents about what they get out of Girl Scouts:
This summer, almost 1,500 girls, 1,200 parents, and 837 troop leaders from Girl Scouts of Northern California participated in a survey conducted by Girl Scouts of the USA. Our council had some of the highest numbers of respondents out of all councils across the country. Thank you for adding your voices!

Being a Girl Scout is Good for Girls.  Most girls, parents and troop leaders in our council say that in Girl Scouts girls:
Make and strengthen friendships

Try new things

Gain confidence

Learn skills that will help her be a leader in her community and successful in life

Learn skills that will help her in school

Have positive relationships with adults who care about them and make them feel important

Have fun
Girl Scouts helps parents connect with their daughters.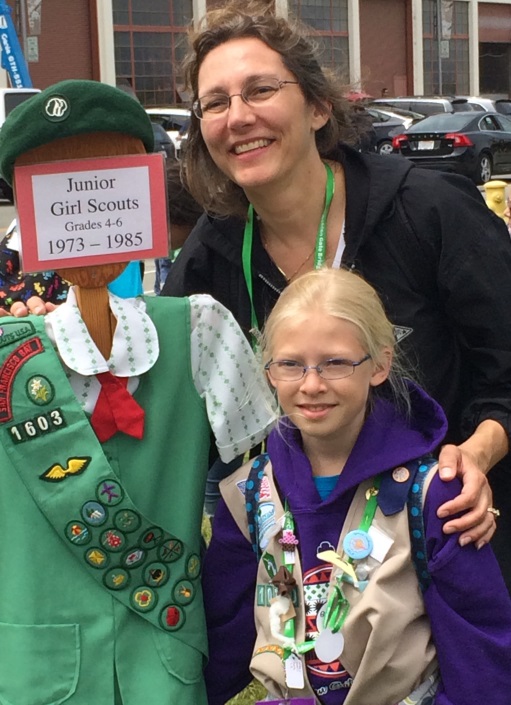 94% of parents believe that Girl Scouts is a good use of their family's time and resources
88% of parents believe that Girl Scouts, compared to other programs, provides parents with more opportunities to bond with their girls
Troop leaders feel valued and good about what they do, and we can do a better job of supporting them.
99% agree they are a role model for girls
97% agree that volunteering with Girl Scouts is a valuable use of their time and "in Girl Scouts I feel like I can make a difference"
92% agree that they have improved their relationship with their daughter(s) as a result of volunteering with Girl Scouts
80% agree they get the support and guidance they need to be a successful volunteer
For me, your input reinforces the value of the Girl Scout experience for girls and their families, and the need to continue to focus in two areas:  1) improving support for troop leaders; and 2) raising funds so that all girls, regardless of their means and family circumstances, have opportunities to be Girl Scouts.
---
Some of my favorite memories from the year that's just ended:
October: Being with 5,000+ Girl Scouts at the National Convention in Salt Lake City. What an inspiring way to start a new Girl Scout year! Here I am with our Board President, Diana Bell. Getting girls outside was a big focus of this Convention.  Girl Scouts of the USA listened, and after a "Girls Choice" voting process this winter, developed the first in a series of new Outdoor Badges!  The new badges are available now!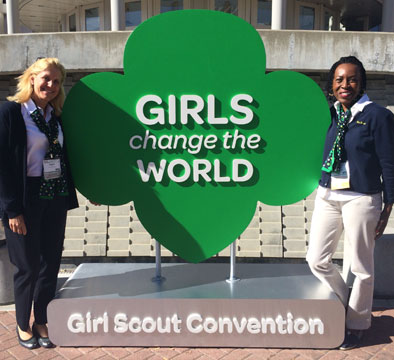 November:  Inspiring girls to explore STEM at our When I Grow Up event at NASA.  Almost 1,000 girls attended.  Our Board held its meeting on site and toured the event with donors and other community members who are interested in encouraging more girls to explore Science, Technology, Engineering and Math.  I received this email from Anne, who earned her degree in physics from MIT a long time ago.  Anne headed straight to the area where girls were demonstrating robots: "Loved it!!!   Found a chair and sat watching with

GLEE

as kids came through as

GLEEFUL

as I was!!!"  As you can tell, it was a very fun and inspiring day!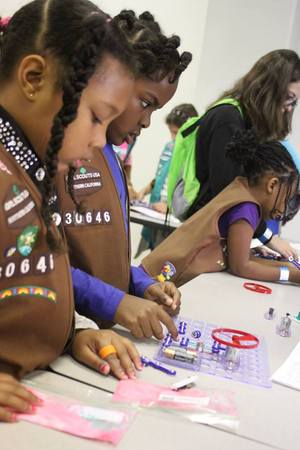 January: Gold Award Celebrations.  Our Alumnae and Gold Award Committees host celebrations throughout the year (starting in January) honoring girls who earn the highest award in Girl Scouts. This photo is from the May Gold Award Celebration sponsored by our South Bay Alumnae Group (with special thanks to photographer, Carla M.H. Bohnett) This year, as I shared in my August 13 Member Update, three of our Gold Award Girl Scouts have been selected for top national honors: 
Annie Cai is being honored as one of 10 National Young Women of Distinction for her Gold Award Project (I am looking forward to attending her celebration in New York next week).

Uma Mahajan and Zahra Hajee each earned the Alcoa Chuck McClane Scholarship, awarded to two just two Gold Award Girl Scouts in the nation.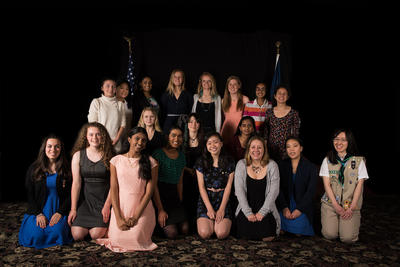 February: The year of the cookie dads. 2015 was a challenging cookie sale –  our baker  ran out of Thin Mints and Samoas, and we had fewer girls participating than in the past, BUT, the girls who did participate, had a great time and members had fun posting cookie photos on our Girl Scouts of Northern California Facebook page. This was the year of the cookie dads, and  I loved seeing entire families out there supporting girls' sales.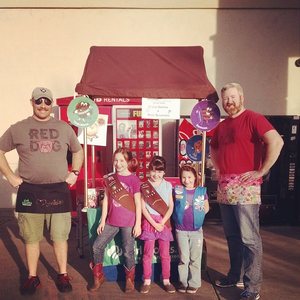 March: The Space Cookies earned the highest honor in FIRST Robotics at the Regional Championship in San Antonio, Texas. The Space Cookies are an all-girls robotics program, sponsored by Girl Scouts of Northern California and NASA: www.spacecookies.org. The Chairman's Award honors the team that best represents a model for other teams to emulate and best embodies the purpose and goals of FIRST. And I love this picture, which shows THREE Girl Scout robotics teams at the Championship (Space Cookies in blue!)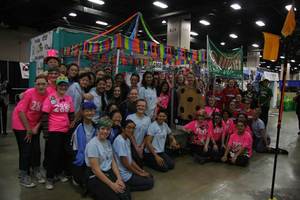 May: Golden Gate Bridging with our National Board Chair and Senior Officials from the National Park Service.  Our honored guests joined us to announce a new partnership between Girl Scouts and the National Park Service.  They were dazzled by our fun-filled day! Not only did they pose for photos, but they also sang along to The Princess Pat – you can hear them (and me) in this fun video produced by the National Park Service. P.S. that's Girl Scouts National Board Chair, Kathy Hopinkah Hannon, in the front right of this photo!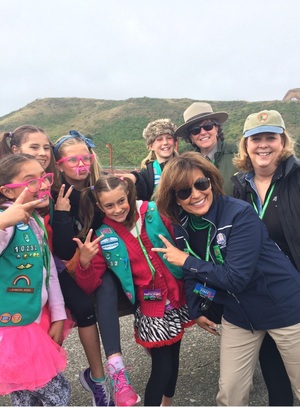 May: We dedicated  wonderful "Hobbit Huts" at Skylark Ranch.  These yurts, deck and shaded activity area are a true labor of love, donated and built by friends of Heide "Hobbit" Wilson, gathered here at the Dedication Celebration.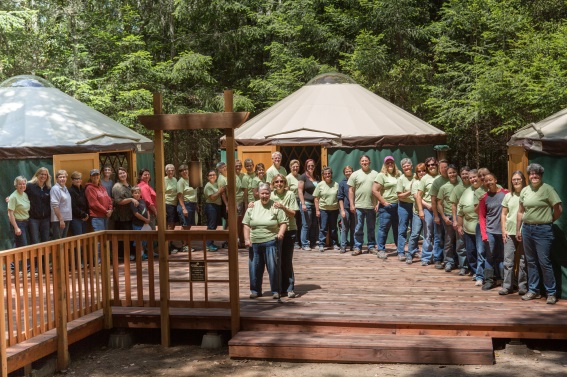 June: We dedicated the awesome new Treehouse Village and North Commons Lodge at Camp Butano Creek.  Thanks to many generous donors, we have now raised $2.3 Million of our $2.5 Million goal! Donate $20 or more and you'll receive this year's Camp Improvement Patch.  If you would like to see what's new at Camp Butano Creek, join us for a work party scheduled for November 14.  You can register here!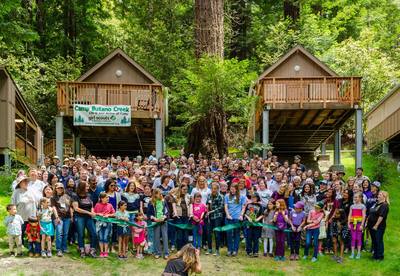 June:  What's not to like about a Girl Scout Camp-out on the South Lawn with the President and First Lady!  I loved this picture!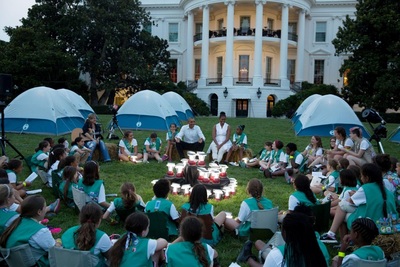 July: I was inspired by the California Dreamin' International Camporee produced by dedicated volunteers for over 400 campers, held for 1 week at the Alameda County Fairgrounds.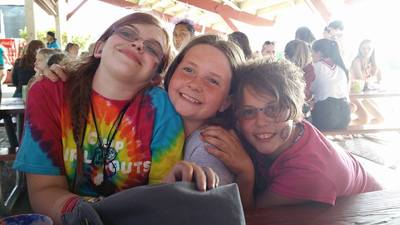 August:  CampCEO at Camp SugarPine.  60 high school girls who live in challenging circumstances and 30 women executives gathered at Camp Sugar Pine to learn about setting goals, seeking help, and growth mindset, and, of course, to get outside and have fun!  This was our 11th year running this program, and 2015 might just have been our best one yet!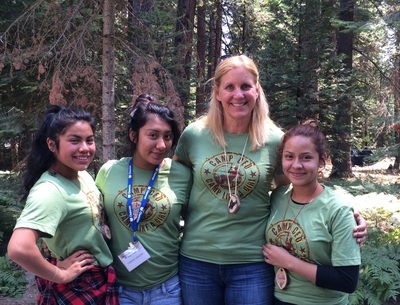 September: Our awesome Made With Code advisory committee (girls and mentors) achieved their goal of introducing 15,000 high school girls to coding! Google challenged Girl Scouts of Northern California  to inspire 15,000 high school girls to use the Google Made With Code platform to explore coding. That was a big challenge – so, we turned to girls to figure it out. Throughout the year, a group of about 50 high school Girl Scouts met with about 25 women in tech who served as mentors. They used the Made With Code resources, including a party kit and inspiriting mentor videos showcasing the connection between coding and cool careers.  The girls and mentors shared ideas, successes and failures as they worked to achieve this audacious goal by year end.  They did it!  By September, they reached their goal, through a variety of events and outreach efforts.  And while they were at it, they shared their love of technology with other girls, including volunteering to lead a coding workshop (shown in this photo) at our summer day camp for Daughters of Farmworkers!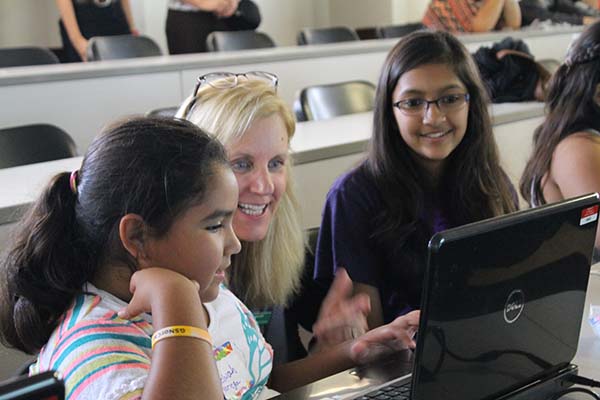 It was fun and energizing to take a moment to step back and celebrate 2015!
---
What I'm excited for in the year ahead:
As you can see from my 2014-2015 highlights, I love opportunities to get out with the girls and to be at our camps. But at this point in our new membership year year, my focus is on the projects we have underway to support volunteers and parents, making sure our membership is strong and we are gearing up for strong product sales and growing our donations to support opportunities and camps for girls. When I look at the list of benefits for girls at the top of this Update, I can say that what I'm most excited about for the coming year, are the plans, systems and people we are developing to help us reach more girls with all that Girl Scouts has to offer.
Fun programs for girls and their families.  Our Program and Event Guide just mailed and is online! 

More support for troop leaders:
Volunteer tool kit. We have the new website and registration system in place and are  rolling out the new online  Toolkit for troop leaders!  We've heard from other councils that are a few months ahead of us with this technology change, that their volunteers are loving the tools.  I'm excited to see how the Toolkit works for our troop leaders.  So far, we have almost 600 troops using the Toolkit and customizing their year with Journey's and Badges:More online training for product sales. Online training for fall sale is underway.  Our goal for both fall and cookies is simpler sales with less time training and more time with girls!

162 Daisy
219 Brownie
146 Junior
An additional 70  troops are using the neat and clean tool for organization and troop planning.

Strong member services department. We want you to be able to get answers to all your questions at: info@girlscoutsnorcal.org
Easier for parents to find troops. So far, since launching the new online troop catalogue system in July, with versions for both girls and volunteers, we have more new girl members than we expected, and we have parents agreeing to help as volunteers. Yay!  This is new for all of us, and I appreciate everyone's helpful suggestions about improvements we are continuing to make.
A new Chief Development Officer to help us raise funds for girls and camp. I am delighted to introduce you to our new Chief Development Officer, Lillian Samuel.  Lillian joins us from UCSF, where she led a major gifts team.  Lillian was a Girl Scout, her mom was her troop leader and her daughter is a Girl Scout.  We are so excited to have Lillian on board, helping us raise funds for girls and camps.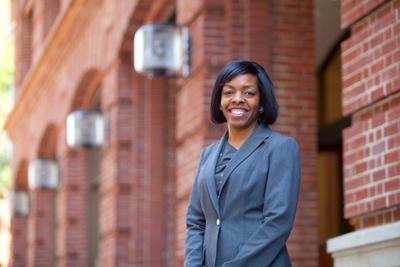 Super fun plans for our 2016 cookie sale. We're just getting started with the fall sale and planning is well underway for the 2016 cookie sale.  As you may have heard, SuperBowl 50 is at Levi Stadium in 2016 – so we're starting the cookie sale a week earlier than usual, to make sure our girls can sell to all the hungry visitors coming to town and to all the football fans preparing for Super Bowl parties.  Stay tuned!

2016 is the Gold Award Centennial. We are working on fun plans, including a big Gold Award breakfast celebration in San Francisco on June 14 – Flag Day – mark your calendars!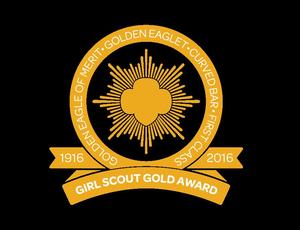 ---
What are you excited about doing with Girl Scouts this year? I hope you all have a great year of fun, adventure and friendship.
Thank you for all that you do for Girl Scouts.
Marina