November 20, 2015
Dear Members and Friends of Girl Scouts,
As Thanksgiving draws near, I am thankful for the wonderful Girl Scout volunteers who give so much of their time, talent and energy to create opportunities girls want and experiences that change lives. Thank you, also, to the thousands of Girl Scouts who are helping others in need during this Holiday Season
This update includes:
---
Honoring 134 exceptional volunteers!

This fall we recognized 134 volunteers with National and Council Awards, including the new GSNorCal Trailblazer Award, recognizing volunteers who make outdoor experiences in Girl Scouts possible, providing creative, recreational, and educational outdoor opportunities for girls.  36 volunteers received the inaugural Trailblazer Award – very exciting for our efforts to get more girls outside! Thank you and congratulations to each of these outstanding volunteers! See the full list here!
---
Amazing Race is an annual fall weekend extravaganza for girls in grades 7 – 12. Earlier this month, 77 girls (organized into 19 teams), 25 adults and 35+ volunteers, joined forces Friday evening through Sunday afternoon, to explore and solve challenges across 6 counties, 20 cities, and 400+ miles.  The adventure included everything from challenges at Sonoma Raceway, to spending the night on a boat at Cal Maritime Academy, to adventures in food at the SF Ferry Building.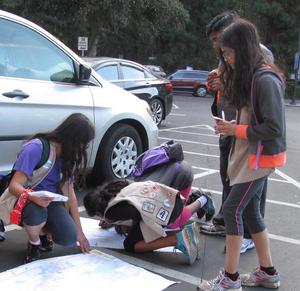 Congratulations and thank you to our Santa Rosa-based Program Director, Barb Herrera, the project lead for this complicated adventure! Here is some of the feedback from girls. You can see in their words, that this experience builds courage, confidence and character – and essential life skills!
"I did NOT know I could read maps. But I'm pretty good at it."

"I did not know that everyone thinks I'm an optimist. But I guess I am."

"I did not know that I am good at keeping track of stuff."

"I did not know that I am so good at spotting details."

"I learned that everyone should have a voice."

"I work best with others when my ideas are heard and everyone is treated fairly."

"It is very frustrating (working on a team) but if you work together you get things done faster."

"It's about the journey not the destination."

"I learned that we need to listen to everyone's ideas"
---
Amazing girls and Gold Awards:

I've met some amazing girls this fall!
Misbah Surani spoke with confidence and poise about her STEM Gold Award project at the Watermark Women's Entrepreneurship Conference in Mountain View.


 

Varsha and Vinita Swamy shared their STEM experiences in Girl Scouts – Space
Cookies robotic team, Made with Code Advisory Team, and STEM Gold Awards -- at the San Francisco Business Times STEM Education Breakfast this October, making the point loud and clear that school plus  out of school time opportunities are the key for getting more girls excited about STEM.


 

Bronze, Silver and Gold Award Girl Scouts shared their projects at the lovely Redwood City Service Unit Awards Ceremony.


 

Mallika Jain and Hannah Richardson, joined me at the recent "Most Admired CEO" event hosted by the San Francisco Business Times.  Both Mallika and Hannah impressed the other guests with their poise and did a great job explaining the Gold Award.  Mallika joined me on stage to describe the Gold Award project she is working on. I was honored to accept the "Most Admired CEO" award on behalf our Most Admired Team – our volunteers, donors, board members, staff and girls!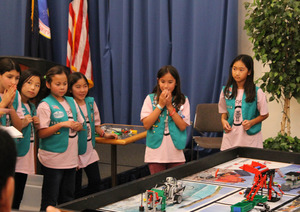 Also, congratulations to the Space Cookies Robotics Team which hosted a successful tournament this past weekend at NASA for 16 First Lego League Robotics Teams. Thank you, for doing so much to encourage all kids to explore technology!

And congratulations to Christina Adams, who received the Next Generation Philanthropy Award from the East Bay Leadership Council recognizing her Gold Award project. Christina raised $8,000 and purchased 50 bikes and bike safety equipment for kids at an east Oakland elementary school. You can read more about Christina's Gold Award project here!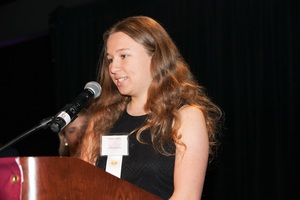 ---
Camp Matters - 11,500 girls at summer camp, raising funds to improve our camps, and Camp Deer Lake forest update:
"Going to camp is important to me because it's one of the few places where I feel truly safe and like I belong. Camp makes me happy. I don't have to worry about the things I would normally worry about because I know that everyone will respect and accept me for who I am."  -2015 GSNorCal Camper

"Camp was important for me because in this camp was able to go out of my comfort zone and challenge myself." 2015 GSNorCal Camper
11,500 girls at summer camps.  Thank you to all of our parents, volunteers and donors – you made summer camp experiences possible for 11,500 girls – 24 volunteer-run day camps, 4 volunteer-run resident camps and 3 council run resident camps! 


 

Raising Funds to take care of  our Camps. Thank you to all who have donated to our $7.5 Million Camp Improvement Campaign.  To date we have raised $2.6 Million. During 2015 we were proud to dedicate two big projects:  the North Commons Lodge and Treehouse Village at Camp Butano Creek and the "Hobbit Huts" (a yurt village) at Skylark Ranch.  Each donation of $20 and more before December 31, 2015, receives this year's Camp Improvement Campaign patch – this year celebrating our Butano Creek project. We will unveil our 2016 Camp Improvement Campaign patch in January! Collect them all and keep girls camping! You can learn more here from girls who camp!


Camp Deer Lake Forest update.  Last year we closed Camp Deer Lake (in the High Sierra near Truckee) to improve fire safety at the camp. Having seen the speed with which forest fires tore through dry forests this past summer, I am glad we made that decision. Unfortunately, the work crews scheduled to work on Deer Lake during summer 2015, removing dead trees and thinning the forest, were deployed to fight forest fires. We hope to complete work on the forest  during summer and fall 2016, subject to available funds and work crews. For summer 2016, we will again run our High Sierra adventure programs from Camp Sugar Pine.
---
Product Sales - fall sale underway and countdown to cookies!
Fall sale ends November 22 – Only a few days left to stock up on nuts, candies and magazines. Great gifts and holiday goodies! Thank you to all of our participating troops and volunteers.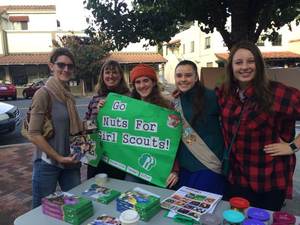 Count down to cookies. We're starting our 2016 cookie sale one week earlier than usual on February 1, so everyone can enjoy their favorite Girl Scout cookies during Super Bowl 50 week.  We have lots of fun in store for this year's cookie program, including:
Experiences. Girl awards include more Girl Scout experiences with set dates to help girls and families make plans, including ropes course adventures, a slumber party at Levi's stadium, a trip to Disneyland and summer camp.
High school travel and gold award projects. More Girl Scout opportunities for high school girls, who can elect to convert their cookie reward cards to troop proceeds to fund council-approved travel and approved Gold Award projects.
Less paperwork! For most, there is NO paperwork!


 
Smooth sailing for cookies . . . Register as members by December 15:  That will help us make sure: 1) your troop is fully registered when cookie pre-orders are due January 11, and 2) parents receive emails to help their daughters sign up for Digital Cookie – our online ecommerce site for girls.  This year, when troops submit a starting order by January 11 that is at least 95% of their 2015 cookie order, each registered girl and two adults will receive a cookie apron/tool belt (depending on how you want to wear it!)
---
Thank you for helping us launch our new membership registration system and volunteer tool kit!
We've now registered over 33,000 girls and almost 25,000 adults in the new national registration system that we launched in July.  Most parents and volunteers report that it has been a huge improvement over the old system.  We are, of course, discovering bugs along the way in this national system, and appreciate your patience while we work through them. Please keep the feedback coming - email info@girlscoutsnorcal.org.
 
The Volunteer Toolkit is also new this fall – so far 764 K-5 troops and 111 6-12 troops are using this new tool to help plan their Girl Scout year, organize meetings, and communicate with parents.  We look forward to your input.  Our goal is to help volunteers spend less time re-inventing the wheel and more time with girls.
---
Raise your voice – regional delegate nominations are open until December 8
Regional Delegates are the voice of members, elected to represent their Regions.  Regional Delegates elect the Board, Board Development Committee and National Delegates and provide input to the Board on council strategy.  All adult members and girls ages 14 and older are eligible.  Nominate yourself between now and December 8. Elections will be held in January, and the Annual Meeting is April 16, 2016.  During 2016 the Board will be working on our next 5 year property plan, and Regional Delegates will provide important input on that plan.
Click here to learn more
.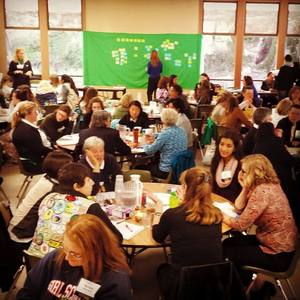 ---
Discoveree 2016 registration is now open!
Our largest training event for adults and older girls, Discoveree, will take place on Saturday, January 30, from 8:30 a.m.-4:30 p.m. at Cesar Chavez Middle School in Union City. This is a full day of trainings for only $30 if you register before Jan. 10 (the price goes up to $35 after that).
 
Whether it's learning a new craft from the "Tree of Life Pendant," gaining a new skill such as orienteering, or learning Movie Chemistries for Daisies and Brownies there's something for everyone at Discoveree. You can relax with yoga, visit the Girl Scout shop, pick up new troop ideas, or learn all about Girl Scout traditions. There are over 100 workshops to choose from! Bring a friend and make some new ones!

Click here to visit our website for a full description of classes and registration information!
---
Invest in girls and help make the world a better place!
I hope as you plan your year-end philanthropy, you will consider supporting Girl Scouts. Your support allows us to reach more girls, train more volunteers, offer unique Girl Scout programs, and take care of our camps. Most importantly, your support helps girls discover their strengths, gain confidence and grow as leaders.  Here are a few ways to give:
Give an e-card in honor of a special Girl Scout in your life

Donate to our Camp Campaign

Make a year end gift online or with a check  – we always appreciate gifts to our general fund, but if you prefer to donate to a specific program or to outreach in your County, you will see that option is also available on the drop down menu.
---
Thank you for all that you do for Girl Scouts and a very Happy Thanksgiving to all!
Yours in Girl Scouting,




Marina H. Park, CEO
Girl Scouts of Northern California