November 22, 2013
Dear Members and Friends of Girl Scouts,
I hope you and your family enjoy a wonderful Thanksgiving holiday. I am thankful for the many ways you support girls and Girl Scouts and –  through your generous gifts of time, service, leadership, energy, and dollars – make the world a better place.
Here are just a few of the Girl Scout memories and moments I am thankful for from this past year: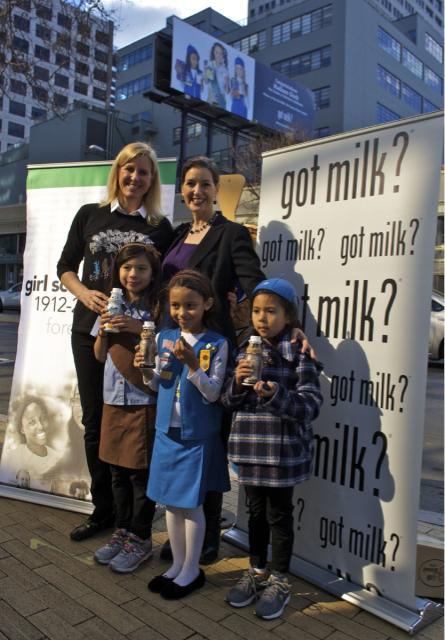 Being in Oakland on the first-ever National Girl Scout Cookie Day for the unveiling of the new "Got Milk" billboard with adorable Girl Scout Madison and her family;
Being with Sricharana in Phoenix last March when she was honored by Girl Scouts of the USA as one of 10 National Young Women of Distinction for her Gold Award project;
Walking across the Golden Gate Bridge with 5,000 Girl Scouts for our annual Golden Gate Bridging for Juniors bridging to Cadettes (always one of my favorite events of the year – so much pure happiness);
Going camping at Camp CEO with 60 amazing high school girls and 25 executive women who helped the girls explore goals, careers, and a growth mindset;
Seeing membership grow in so many areas of our council and more older girls than ever choosing to stay in Girl Scouts;
Hearing Larissa share her Girl Scout story at our October Forever Green gala. There was not a dry eye in the house. I am thankful that Girl Scouts of Northern California and our Got Choices program were there to help Larissa and her family. You can read Larissa's story online here.
This update includes:
Facebook Photos – 2013 Year in Review.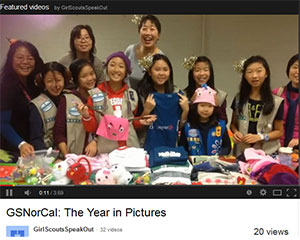 Girl Scouts of Northern California has over 6,100 Facebook friends! It is a quick way to keep up with all that's going on around our council. I love seeing the pictures of girls and volunteers in action from Crescent City to Gilroy and everywhere in between.
Here's a fun video collection
, in chronological order, of pictures that volunteers and girls shared with GSNorCal via social media during the 2013 membership year. It takes just under 4 minutes to run through the year: fall sale, Halloween, holiday service projects, cookie sale, year-end bridging celebrations, Gold Awards, older girl networking events, cookie 500 events, leadership conferences, summer camping, camp work parties, and fun, friendship, and adventure throughout the year. I can't wait to see the fun and community impact during 2014!
We also have Facebook Groups for Communities
. GSNorCal community Facebook groups are a great way to keep up with fellow volunteers and learn about local programs and events: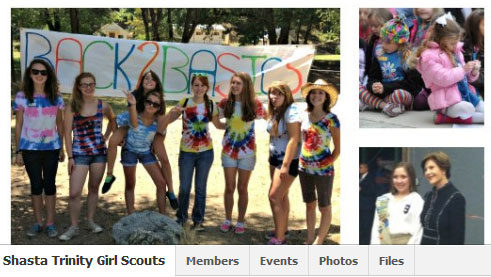 Property Update: Together We are Making Progress, Preserving our Camps and Getting More Girls Outside! 
Thanks to members and community supporters we are making good progress on the Property Plan that our Board adopted in November 2011. Key ways members are making a difference include:
Donating to the Tents and Trails Fund
Attending camps and programs on council properties (the participant fees help cover property costs)
Participating in camp work parties
Our 12 camp properties supported over 139,000 camper days during the 2013 membership year. Bothin and Arequipa were the most-used camp properties, with over 38,000 camper days! It is terrific to see the increased use and support.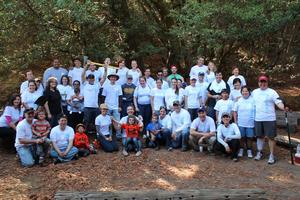 Work Parties.
Thank you for signing up for camp work parties – participation has increased significantly over the past few years – members, corporate partners, and community service organizations are pitching in. A few weekends ago, 70 employees of Jamba Juice, shown at right, spent a Saturday at Bothin, clearing trails, including restoration of the loop trail from Bothin to Arequipa. The Kiwanis Club and local Boy Scouts teamed up with Girl Scout volunteers at Twin Canyon for a 1-day work party (K-Day) at Twin Canyon, and the first weekend in November, over 50 volunteers pitched in at Skylark. Join us in the fun and help take care of our camps – sign up now for a
spring work party
.
And if you have connections to a service organization or corporation that might be interested in helping out, please send an email to
dpoock@girlscoutsnorcal.org
.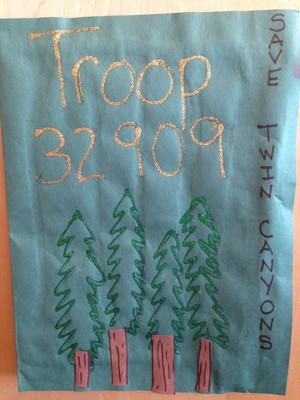 Volunteer Site Committees

.
Twin Canyon. The Twin Canyon Site Committee held a Hike-a-Thon to raise funds for Twin Canyon and since October 1, 2012, has taken action on a number of significant steps to get Twin Canyon to breakeven operation, including raising over $40,000 (through donations and the Hike-a-Thon). For example, we just received this wonderful card from Brownie Troop 32909 together with a donation of some of their troop funds to help preserve Twin Canyon!
Two Sentinels. The Two Sentinels Site Committee has achieved break-even operation for Two Sentinels through a combination of fund raising and volunteer labor.
Bothin Museum. We are working with a Volunteer Committee at Bothin, on improvements to the Museum (funded by a generous donation in honor of longtime volunteer Rachel Kwong).
Camp Ida Smith. During 2014, our property staff will be working with a volunteer committee in San Francisco to re-open and renovate Camp Ida Smith (recently returned to Girl Scouts after a long stint of use by the Water District).
Tents and Trails Donations.
It takes money to operate and maintain our camp properties and keep them open for troop camping. We launched the annual
Tents and Trails Fund
a few years ago and for the 2013 fiscal year, which ended September 20, 2013, raised $61,484. The project of maintaining camp properties never ends, and our camps and campers would love your support for 2014.
A New Bathhouse and More for Camp Bothin.
Our next big camp improvement project is Camp Bothin. Over 10,000 girls and adults enjoyed 38,000 camper days at Bothin and its neighbor, Arequipa, during the 2013 membership year. We have exciting plans to update Camp Bothin and Arequipa and add more group program sites. We are starting with the basics – we've raised the funds and have the permits to break ground this month on a new ADA compliant bath and shower house at the Bush Unit! Many of the Bothin buildings were constructed in the 1920s and need renovation to meet modern health and safety standards. That's expensive. We need to raise $2.4 million to get started on the Bothin project. We've raised the first $260,000 and will be reaching out to all of you and our alumnae who love Bothin to be part of this historic renovation.  I hope we can count on your support. You can
donate online here
; just write "Bothin Campaign" in the subject line and your donation will be used only for that purpose.
For those of you who would like additional information about our 29 properties,
here is a brief progress report
– mapped to the key goals established two years ago and a look ahead at 2014.
Giving Season.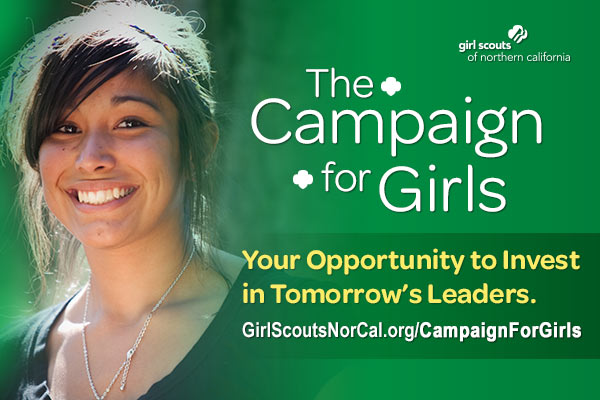 It is the time of year for annual giving. I hope we can count on everyone to support Girl Scouts of Northern California. Every dollar makes a difference. Please look for our year end appeal in your mail box. I hear a lot of questions from families about how Girl Scouts is financed, what it spends money on, what the donations cover, and why we need support from Girl Scout families and alumnae. Here are answers to some of the more frequent questions. 
I can't afford to give. That's okay – we want Girl Scouts to be there for every girl. That's why we have financial aid, and it's also why we ask families who can afford to give, to join us in our Campaign for Girls. 
I already pay dues to my daughter's troop. Why am I also being asked to donate to Girl Scouts of Northern California?  Your daughter's troop is part of Girl Scouts of Northern California, just like her classroom is part of a larger school. If your daughter's troop collects dues, the dues stay with her troop to support her troop's activities. Girl Scouts of Northern California provides the infrastructure that makes your daughter's troop experience possible, starting with volunteer recruiting, background screening and training. It costs an average of about $300 per girl to deliver council services, including: volunteer background screening and in person and online training for volunteers; website and weekly communications to troop leaders; school-year programs; support for Bronze, Silver and Gold Awards; programs for girls in under-resourced communities; and operation of 12 camp properties. Last May, when we announced that cookies will sell for $5 a box during the 2014 cookie program, I shared detailed information about council services; click here to read that information.
What about the $15 registration fee I pay for my daughter to join Girl Scouts?  Your daughter's $15 fee pays for her membership in Girl Scouts of the USA and helps to pay for Girl Scout activity insurance.100% of the $15 membership fee stays with Girl Scouts of the USA, our national organization (located in New York). Anything you contribute above the membership fee stays to help support our council, Girl Scouts of Northern California. During our fiscal year ending September 30, 2013, we raised $70,820 through your generous online donations made at the time of membership registration!
My daughter sells cookies, so why should I give too?  If your daughter participates in the fall sale or cookie program, thank you! Your daughter is developing 5 skills (goal setting, decision making, money management, people skills, and business ethics) and is raising funds to help support her troop and Girl Scouts of Northern California. Whether your daughter sells 12 boxes or 1,200, when she participates in the cookie program, she will help support Girl Scouts of Northern California and also develop the important skills girls gain from the program. Funds raised through the cookie program support about 58% of Girl Scouts of Northern California's annual budget. As mentioned above, it costs an average of about $300 per girl to deliver council services. 22% of girl members raise $300 or more for council services through their participation in the cookie program. Thus, for most girls, cookie sales alone do not cover the per girl share of council services, and that is why we hope families will support both their daughter's participation in the cookie program and Girl Scouts of Northern California through donations.
I want to support the camp I love. That's great!  Our camps will appreciate your support. You can support our Tents and Trails Fund, and if you want to restrict funds to a specific camp property, please contact our development department and they will explain how: helpdesk-FundDevelopment@girlscoutsnorcal.org
May I spread my payments out over time? Yes, you may sign up for monthly credit card payments.
Fall Sale.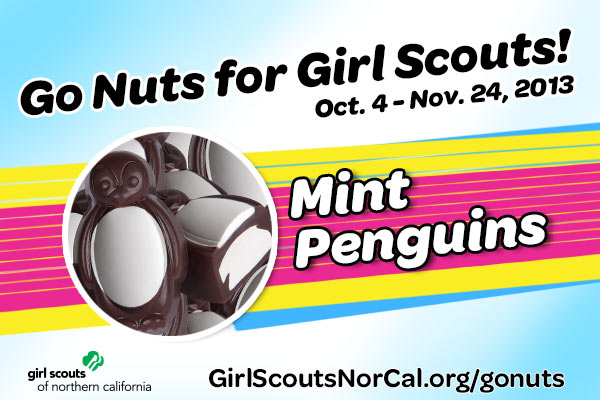 Look for Girl Scout booth sales through Sunday, November 24 – the last weekend to support the fall sale. For the second year in a row the number one product is  ...
Dark Chocolate Mint Penguins
... with
Caramel Owls
and
Wasabi Almonds
running a close second! This week, for the first time ever in Girl Scouts of Northern California, troops paid for their product sales via ACH (automated clearing house), which means an automated withdrawal from their troop accounts. 98% of our first batch of withdrawals were successful. 1,663 fall sale troops had the dollars in their accounts and the electronic transfers went through without a hitch; 37 troop transfers didn't go through the first time – mostly non-Wells Fargo banks that need additional assurances that the withdrawals are authorized. We'll continue to work with our troops and banks to improve the ACH process, but are happy about how well it worked our first time through! We hope, as we move into cookie season, that ACH payments will help all cookie volunteers by reducing paperwork, confusion and reporting.
Volunteer News.Adult Learning at Discoveree!  February 1, 2014 - Registration is now open.
Our largest training event for adults and older girls, Discoveree, will take place on Saturday, February 1, from 8 a.m.-4:30 p.m. at Cesar Chavez Middle School in Union City. This is a full day of trainings for only $30 if you register before January 15 (the price goes up to $35 after that, which is still quite a deal!).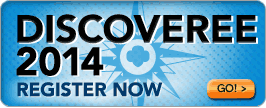 Whether it's learning a new craft from the "Duct Tape Divas," gaining a new skill such as fire building, or learning a practical, hands-on way to take a Journey with your girls through "Journey How-to," there's something for everyone at Discoveree. You can relax with yoga, visit the Girl Scout shop, pick up new troop ideas, or learn all about Girl Scout traditions. There are over 100 workshops to choose from! Bring a friend and make some new ones!
Click here to visit our website for a full description of classes and registration information.
You can also follow the fun in the
Discoveree Facebook group
or on the
Discoveree Pinterest board
!
Adult Recognition Events and Celebrations. 
This past month, we gathered to honor and celebrate the contributions of amazing volunteers in the South Bay/Peninsula and North Coast Areas of GSNorCal. On behalf of the thousands of girls, volunteers, and communities that benefit from your hard work, creativity, and passion, thank you! The North Central Adult Recognition events are scheduled in Redding April 14, 2014, and Chico, April 21. Dates for our other areas (East Bay/Solano and Redwoods) will be announced soon.
Click here
for information.
Thank you, again, for all that you do to help build girls of courage, confidence, and character who make the world a better place and best wishes for a wonderful Thanksgiving with friends and loved ones.
Yours in Girl Scouting,



Marina H. Park, CEO
Girl Scouts of Northern California