October 14, 2014

Dear Members and Friends of Girl Scouts,

October 1 marked the start of a new membership year in Girl Scouts. Thank you to each of you for your contributions to a successful 2014.

In this update, I cover:
2014 Highlights: We are still compiling all the final numbers, but here are three important milestones:
More girls!  We grew girl membership to 50,541 girls and were among the top 15 councils in the country for growth during 2014.  GSNorCal is now the 3rd largest council based on total girl and adult membership and the 4th largest based on girl membership.  Thank you to our volunteers and Service Units for leading the way to help more girls experience Girl Scouts.

More funds for girls in under-resourced communities!  We exceeded our grants goal, to raise funds to reach more girls in under-resourced communities with STEM, environmental and Growing Strong programs, including Got Choices for girls in detention centers, exercise and anti-bullying programs.

We broke ground on a major camp improvement project! We still have funds to raise for this project, but after much effort, we obtained all required permits and are on our way to having a new lodge and open-air cabins and Camp Butano Creek: http://www.girlscoutsnorcal.org/camp-improvement/camp-butano.  We hope to have these new facilities open for camping by mid-June!
National Convention News: This week I head to Salt Lake City, Utah (together with 40 or so other members from Girl Scouts of Northern California) for the National Girl Scout Convention that happens every three years.  The main topic at this year's Convention will be a discussion about outdoor program in Girl Scouts.  Our volunteer delegates gathered input from members in response to survey questions from Girl Scouts USA about the role of outdoor program in Girl Scouts.  A copy of GSNorCal's response is included here.  You can see from our input that there is a lot of interest in bringing back outdoor skills badges (as well as some council's own).  I look forward to listening and learning in Salt Lake City. 

Outdoor Program in GSNorCal: 
We know that getting girls outside and building outdoor skills is important to many of our members.  Because outdoor program will be a major topic of discussion at this week's National Convention, I also wanted to share what we are doing at GSNorCal. Thank you to each of you for your donations, participation in product sales and support of our Camp Improvement Campaign – these, plus the Council Service Fee that we will begin charging for the 2016 membership year, all make possible these expanded opportunities for girls.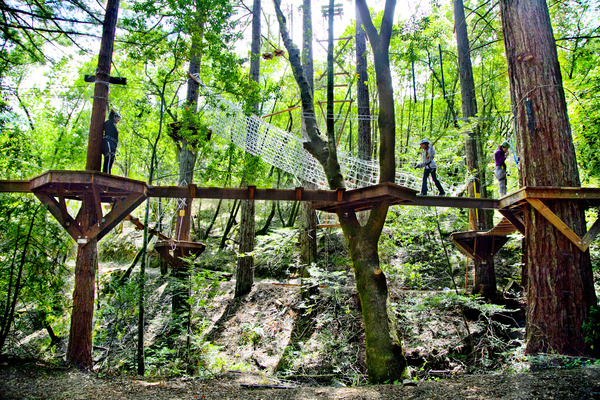 ​
Here are GSNorCal's key goals for expanding outdoor opportunities for girls during 2015:
Volunteer Run Camps:  Continue support and expansion of our Volunteer Run Camp programs – we serve approximately 8,000 girls through these

Council Run Camps:  Continue the delivery of quality Council Run Camp programs – this year we served nearly 4,200 participants including family camps

Get Outdoors Initiative:  Launch the Get Outdoors (GO) Initiative to expand Council led/organized year-round outdoor opportunities for girls and troops and to encourage and empower more leaders to facilitate outdoor experiences for the girls in their troops/groups. 2015 Get

Outdoors events include:Outdoor skills days (S'Mores and More)
High Adventure Ropes Course days for individual participants

A Family GO Fest celebrating outdoor opportunities for families

The rebirth of TEQUE (Older Girl Outdoor Skills competition)

High Adventure series for older girls

Bothin Outdoor Program Center programs 

I am excited about shifting resources to support more outdoor experiences for girls, both through increased volunteer support and learning opportunities and through council-staffed programs.  Based on early registrations for outdoor adventures included in the 2014-2015 Program and Events Guide (PEG), these are programs girls want! All of the 2014-2015 outdoor skills based PEG programs have sold out, so we know we need to add more resources and even more such programs. We, of course, want to make sure that the outdoor programs developed by council staff are fun, help girls develop new skills and build courage and confidence.  A recent survey of girls who participated in an outdoor high adventure event revealed that: 100% of girls had fun; and 77% of girls strongly agreed that she tried to do something new, even if she wasn't sure she would be able to do it. 

2015 membership year – off to a good start: One final note, as we launch our 2015 membership year, I am happy to report, girl registrations and renewals are running ahead of 2014 at this time.  That's all about having great troop leaders and Service Unit volunteers and creating, as our vision says:  "opportunities girls want and experiences that change lives." 

During 2015 GSNorCal is continuing to invest in new ways of work to support busy parents and volunteers in our diverse communities:
 
eLearning Initiative.  Thanks to a two year $500,000 grant from the S.D. Bechtel, Jr. Foundation, we are able to add new tools and hire additional staff members  to expand online, bilingual training and materials for volunteers

Diversity and Inclusion.  Thanks to a $325,000 grant from the S.D. Bechtel, Jr. Foundation and approximately $200,000 from other funders, we are launching a new 15 week program model in under-resourced communities designed to introduce Girl Scouts to parents and volunteers who are not familiar with Girl Scouts and to support long term development of volunteer capacity in these communities.

Volunteer System and Toolkit.  GSNorCal will be one of the early adopters of the new GSUSA Volunteer System and Toolkit, designed to make it easier to find and lead troops.  You can learn more here about these new tools and the anticipated spring 2015 launch: http://www.girlscoutsnorcal.org/volunteers/volunteer-systems 
I look forward to working together during 2015 to reach more girls with opportunities they want and experiences that change lives!

Yours in Girl Scouting,


Marina