Dear members and friends of Girl Scouts,

Last week we celebrated Volunteer Appreciation Week and today we celebrate Girl Scout Leader Day.  Thank you for making a difference in girls' lives.





Earlier this month I met with a long-time volunteer in Sonoma County whose daughters graduated from high school many years ago.  She still volunteers each year, as a troop leader in a school in a very low income community, because she loves Girl Scouts and wants every girl to have the opportunity to be a Girl Scout. We are fortunate to have thousands of volunteers and troop leaders who give so much to Girl Scouts and to girls.

Here are just a few examples of how Girl Scout volunteers change girls' lives and make the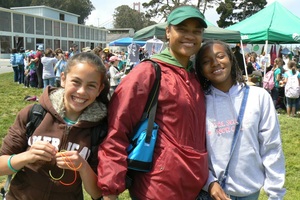 world a better place. Girl Scout research shows that caring Girl Scout adults are the most important contributors to these positive outcomes for girls:
 
3 in 4 girls say that because of Girl Scouts, they have become a leader in more activities with their friends and classmates, as well as in their community.

Girls who have been Girl Scouts:

Are more engaged in volunteerism and community service

Are more likely than other girls to be stewards of the environment

Thank you for your time, your passion, your creativity and your leadership! You are making a difference for girls!  If you would like to honor a leader or volunteer in your life, please consider one of our e-cards – to say thank you and support Girl Scouts.
 
---
GSUSA Medal of Honor for Benicia Cadette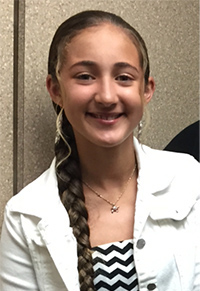 Girl Scouts also helps girls develop skills – from building a fire to knowing what to do in an emergency.  Congratulations to Amber Iniguez, a Benicia Cadette who recently was awarded the Girl Scouts of the USA Medal of Honor. Amber rescued her sister from possibly drowning after an accident in the Feather River in a remote area of the Plumas National Forest, northeast of Chico.  Congratulations, Amber.  We are so proud of you!
---
Supporting today's busy volunteers
We know that today's volunteers are busier than ever and we need to do everything we can so volunteers can spend their time with girls (and not with paperwork and process).  Here are some of the steps we've taken and improvements ahead:
Training on demand.  In 2012 we launched a major effort to increase online training – almost 10,000 volunteers completed over 23,000 online courses in the past year. We are adding tools to make all of our online courses compatible with Smart phones and tablets.
More opportunities to learn outdoor skills. This year, we have added camp skills programs, S'mores & More, where volunteers gain skills and confidence in their ability to get girls outside while their troops are also having fun and learning outdoor skills. Each S'mores & More program has sold out – so look for even more next year.
Better registration and troop management systems.  We know eBiz registration is a pain point for volunteers, as is the lack of a troop management system that "talks" to our registration system.  That's changing – coming this summer, we will launch the new Girl Scouts USA Salesforce registration system for K-12, and volunteer toolkit for K-5 troop leaders.  Instead of spring renewals we will launch renewals this summer so we can use Salesforce for registration. 
Easier to organize new troops.  The Salesforce system I mentioned above, will also support a new "troop catalog" system that will allow parents to search for troops and volunteer opportunities in their community.  The catalog will also make it easier for volunteers who want to start a troop to connect with other interested parents!
Answers on Demand!  When we launch Salesforce registration this summer, we will also have a much improved ability to centralize support – to track common questions and individual requests for help, so we can get consistent answers to your questions on a timely basis.  Centralized support for troop leaders and parents (by phone, email and social media) has been piloted in other councils using the new Salesforce system and is working very well. 
---
Update on staff structure

All of the above changes in volunteer support also mean changes in how our staff works together to meet the needs of volunteers, parents and girls.  During the past 6 weeks we have been working on two projects:
Reduce the size of our staff in light of the below budget fall and cookie sales (almost $1.2 Million shortfall); and

Re-organize our staff to support volunteers and parents with the new ways of work I have summarized above. 

Through these changes, 10 valued staff have left or will be leaving Girl Scouts of Northern California.  I am proud of the courage and character our GSNorCal staff have shown as we have worked our way through this challenging time of right-sizing to our budget and re-designing for our new ways of work. The uncertainty has been challenging, and it is very sad to say goodbye to so many wonderful and dedicated colleagues.  

I have heard from members who are disappointed that we have had to say good bye to so many valued staff, but given that staffing is our largest expense, it is not possible to address a $1.2 Million budget shortfall without reducing the size of our staff.

Saying thank you and goodbye to 10 valued staff.
I appreciate all that these staff have contributed to girls and to Girl Scouts. We are going to miss them.  These changes are impacting most of our offices, with 4 staff leaving the Alameda office, 3 leaving the Santa Rosa office, one leaving Chico and two field-based staff leaving who have served the Mendocino County Coast and Siskyou Counties.

1 Senior Director:
Deborah Holden, Senior Director, North Coast
3 Directors:
Helen Molnar, Director, Program, North Central

Becky Thorndike, Director, Member Governance

Melanie Vasilevsky, Director, Risk Management and Travel         
5 staff in manager and support positions:
Rachael Akbar, Registrar

Aneta Campbell, Executive Assistant

Becky Gentry, Program Coordinator

Cheryl Koss, Membership Specialist (part time)

Silvina Parkin, Membership Specialist (part time)

Debra Williams, Volunteer Resources Assistant
---
Welcoming new council-wide Directors and Team leads in our new structure

We are operating with a leaner staff – 11 fewer positions than we budgeted for 2015. We will make this work by effective use of our new technology and sharing more of our work and best practices, with less time spent "re-inventing the wheel." 

You don't need to memorize who does what. If  you have questions, please call Member Services at: (800) 447-4475 ext 0, or send an email to:  info@girlscoutsnorcal.org

Please note that Member Services staff will be in training on many Thursdays in May and June, so you might need to use email on Thursdays - the phone message will let you know.

All of our offices are remaining open with staff available to work with local members (Alameda, Chico, Eureka, Redding, Santa Rosa, San Jose).  The big change is that the North Coast and North Central areas are moving to the same model that we piloted with success in the Bay Area this year – we are moving away from membership "generalists" to staff who work with greater focus on either recruiting , volunteer support, or outreach.  We also continue to adjust and reduce retail shop hours to reflect the reality that more members are shopping online and fewer are making purchases in our shops. 

Here is a brief summary of the new Directors and lead Managers, all part of the Mission Delivery team led by Michelle McCormick, our Chief Mission Delivery Officer.  Our current Senior Directors will continue to lead Membership, Program, Volunteer Resources, and Business Operations. Each Director is responsible for girl, volunteer and parent experiences throughout the council, and we will all be working closely together across offices and regions.
Membership


Terri Hague




Senior Director

Bree Von Faith, Director, Membership Development (San Jose): Bree will work with service units and with our Marketing & Communications Department, leading a team of 12 working on council-wide recruiting.
Toni Aclaro, Director, Volunteer Development (Alameda): Toni and her team of 12 will support service units and volunteers. This is a "matrix" structure, and each geography will also coordinate across recruiting, volunteer development and outreach. Linda Powers (Santa Rosa) will lead this coordination as the Director- North Coast and Kristen Pierce (Redding) will lead this coordination as the Director- North Central.
Marisa Cidre, Director, Community Development (San Jose): Marisa leads a team of 9.5, engaging girls and volunteers in underserved communities and coordinating inclusion with service units. Marisa also leads the Latina Initiative Team, coordinating work across all areas of council services and operations to help us ensure that Girl Scouts is welcoming and relevant for Latina girls and their families.
Kathy Johanson, MVP Director – Redwoods (Eureka): Kathy coordinates all Girl Scout experience in the Redwoods Area, leading a team of 1.5 staff.
Program


Kymberly Miller




Senior Director

Jean Fahy, Lead Director, Program Innovation (Alameda): Jean is our STEM expert and continues in her role leading a team of 11 delivering funded programs (TechChoices, Got Choices, Daughters of Farm Workers) in underserved communities and developing new programs and partnerships.
Kerry Barcellos, Director, K-5 Enrichment (Alameda): Some of you know Kerry from her work with Thrive and the Journey Weekends at Bothin. The Thrive grant ends this June, and Kerry will step into this new role, leading a team of 5.5 producing local and council-wide programs and working with Service Unit program teams. Kerry is also leading a newly formed Rural Initiative. Girl Scout membership has been declining throughout the nation in rural communities, including in Northern California – the Rural Initiative Team includes membership, program, product sales and volunteer resources staff who will identify and pilot best practices for rural girls and volunteers within our council and other councils across the nation.
Marla Feierabend, Director, Older Girl Leadership and Awards Program (San Jose): Marla continues in this role, leading a team of 2, working with girls and volunteers to produce older girl events (like Lead the Way), and help girls earn their Silver and Gold Awards.
Volunteer Resources


Shari Teresi




Senior Director

Janice Stone, Director, Learning Events (San Jose): Janice works with volunteer teams to produce in person learning events, such as Discoveree in the Bay Area and Fall Festival in North Central. She also works closely with the council's Learning Facilitators.
Sheryl Jucker, Director, e-Learning (Alameda): Sheryl is our online learning guru. She leads a team of 4 (one of whom is a 1 year grant-funded position). When you take those late night short trainings – you have Sheryl and her team to thank.
Kelly Cacic, Service Unit Support (Santa Rosa): Kelly's team of 2 will develop content for Service Unit meetings throughout the council. This is an example of "less time spent re-inventing the wheel" – we will identify best practices and then share content for all service units. Kelly will also oversee volunteer recognitions.
Member Services


Michelle Purviance




Senior Director

Rebecca Baeza, Director, Member Services (San Jose): Rebecca's team of 15 will provide phone, email and social media support for parents, members, and volunteers in three key areas: Joining Girl Scouts, Camp, Program and Volunteer Training / Event Registration, Property Reservations, and Troop Support – whatever questions you have – this will be the place to start.
Lorraine Fiamengo, Database Manager (Santa Rosa): Lorraine is our data guru. Her team of 2 will help us use our new Salesforce system to provide accurate information and reporting – which in turn helps us figure out what is working and what is not.
Other
Mary Holzheimer, Risk Management and Conflict Resolution, (Alameda): This is a new role – and, again, is an example of streamlining services so that we make the best use of our members' time. Mary's team of 2 will oversee high adventure and travel clearances and insurance requests and claims. We will also, for the first time, have a central place to escalate conflicts for resolution. Until now, issues – for example, disagreements about use of troop funds, or disagreements between a parent and a troop leader – have been the responsibility of the local membership staff person to help resolve, and resolving the disputes waits in line with all of the other responsibilities on their plate. When we launch our new Salesforce system in July, we will try to resolve "simple" issues through member services, and if they can't be resolved, the issues will be escalated to Mary who is trained in conflict resolution.
Our new teams are excited about the opportunities ahead, and about working with parents, volunteers and girls to help more girls thrive. 
---
Looking Ahead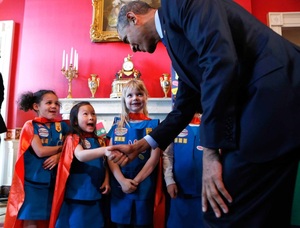 This Daisy robotics troop - the Super Girls - from Oklahoma was a big hit at this year's White House Science Fair, especially when the girls asked the President if he has ever participated in a brainstorming session!  In addition to being super cute, this picture serves as an important reminder of who we are changing for, and how fast we need to move to keep up with girls and their parents

 
---
Thank you for your continuing support and, most important, thank you for all that you do for girls and Girl Scouts.
Yours in Girl Scouting, 
Marina